Ken's Pen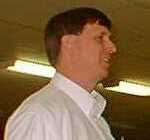 Revelation 7:16-17 ......They shall hunger no more, neither thirst any more; neither shall the sun light on them,
nor any heat. For the Lamb which is in the midst of the throne shall feed them, and shall lead them unto living
fountains of waters: and God shall wipe away all tears from their eyes.


There is an Aroma of Excitement in the air around the McAdory/McCalla area. You, too, can:
Feel the Life
Hear the Joy
See the Light
Know the Truth
Taste the Water...at Living Waters Church @ McAdory.
Our Goal is to work with Jesus Christ in growing His Church through relationships with individuals and families to become a source
of Power for World Missions. We hope you will come join us in this new work.
We, like this web site, are always under construction so come join us now, in the early days of Building for the Glory of God.
We are sponsored by South Highland Baptist Church in Bessemer, and the Bessemer Baptist Association. We are a part of the Southern Baptist Cooperative Program in supporting over 7000 individual missionaries world-wide and World Hunger.
One of our dreams is to have a fountain from which all the coins collected will go through the SBC World Hunger offering to provide
good water in needy places of our country and world.
COME JOIN US!





HOME / BULLETIN BOARD / CHILDREN'S PAGE / SPECIAL PEOPLE / PICTURE GALLERY